Gluten Free Chocolate Cake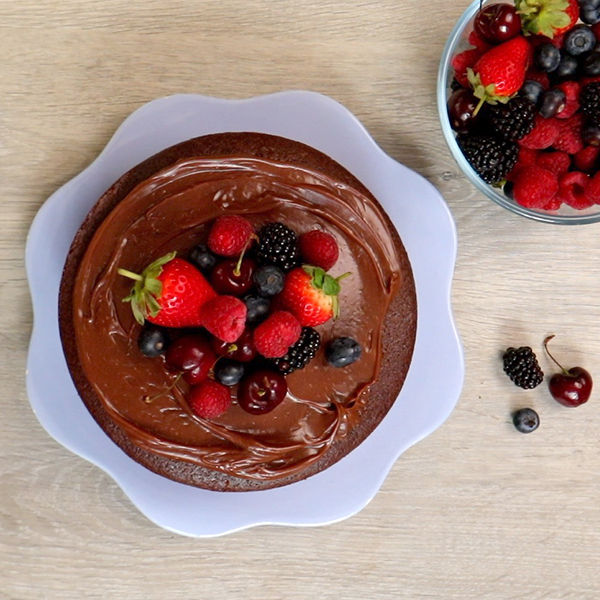 CAKE
75g cocoa powder
250g FREEE Self Raising White Flour
325g caster sugar
4 eggs
200ml milk
200ml oil
1 tbsp vanilla extract
125ml boiling water
FILLING AND TOPPING
250g cooking chocolate
250ml double cream
100g caster sugar
Cake
Line three 20cm/8" round cake tins with parchment, rub a little oil around the edges and pre-heat the oven.
Sieve the cocoa into a bowl, add the flour and caster sugar, and stir with a whisk to combine.
Break the eggs into a large jug, add the milk, oil and vanilla and beat together well.
Pour the egg mixture into the flour bowl and mix everything together with the whisk.
Add the boiling water and beat well.
Divide the runny mixture between the tins.
Bake for 35 – 40 minutes.
Cool the cakes for a couple of minutes in their tins then turn them out onto a wire rack.
Remove the parchment and leave to cool.
Filling and Topping
Break the chocolate into squares.
Put the cream and sugar into a saucepan and stir over medium heat until about to boil.
Remove the pan from the heat, add the chocolate and stir until combined.
Allow to cool, stirring regularly until a thick paste starts to form which may take 8 – 10 minutes.
Divide the mixture between the top of the three cold sponges and spread it out over each.
Immediately place the sponges one on top of the other and leave to set.
Equipment
3 x 20cm/8" round cake tins and saucepan
Temperature
180°C, Fan 160°C, 350°F, Gas 4 
Cooking time
35-40 minutes